Aeration and Reseeding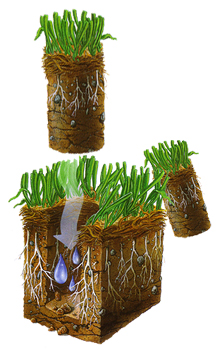 Maintain a healthy and green lawn with Lawns by Dr Vaughan's Aeration and Overseeding Program. From the best lawns to the unhealthiest of lawns, aeration and overseeding is a mandatory lawn care and maintenance process that should be handled professionally.
Lawns by Dr Vaughan is the local authority for Aeration and Overseeding. Every summer, fescue grass lawns struggle with the complex Virginia weather conditions of high humidity, shade, high temperatures, and wet and/or dry conditions. Fescue grass does not have the ability to regenerate and must be reseeded to establish a new lawn.
Lawns by Dr Vaughan utilizes a core aerator capable of 1,200 lbs of downward pressure to pull up to 5" cores. We also utilize a powerful vibrating aerator for sun baked compacted "cement like" soils. No soil is too hard for this aerator to penetrate. Regardless of soil conditions, we have the equipment to get the job done.
Our program utilizes the best seed available for the Mid-Atlantic region. Lawns by Dr Vaughan utilizes a special blend that is comprised of 95% fescue grass, 5% Kentucky bluegrass, and is 100% weed free. This mixture establishes a dense, healthy lawn with excellent drought resistance.
Our Aeration and Overseeding Program includes:
Detailed instructions for preparing your lawn to achieve maximum results
Aeration of the lawn
Seeding with 6 pounds of specially blended, 100% weed free seed per 1000 sq ft.
Detailed watering and mowing instructions
A follow up visit to check on results, provided for new lawns at no charge
All of these steps ensure that our Aeration and Overseeding program is the best in the area, and with proper watering and mowing practices, we guarantee excellent results.
If you are currently a Lawns by Dr Vaughan client, or are a Virginia resident and would like to become a client and take advantage of this aeration and overseeding program please contact our office at (804) 715-8773 or (804) 502-8672. We will be happy to explain the aeration and overseeding program, inform you about our other lawn care services and programs you can benefit from, as well as provide pricing for your property. Call soon to take advantage of this great program and to become a valued Lawns by Dr Vaughan client!